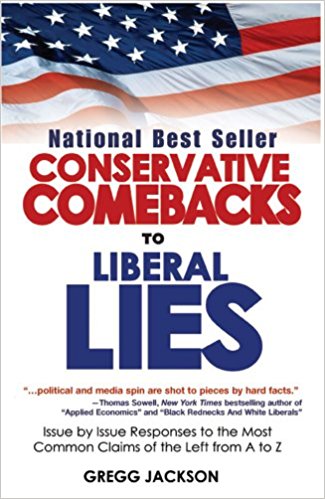 THE CONSERVATIVE'S POLITICAL BIBLE. Let's say you re listening to a loony liberal, debating some dopey Democrat, or arguing with a gaggle of goofy lefties. Wouldn't it be great to have the facts to combat all those liberals lies? Well, here it is: finally, the book that sets the record straight!
Radio host and author Gregg Jackson has written THE authoritative answer book for conservatives concerning our nations key concerns: Abortions, terrorism, the Patriot Act, separation of church and state, immigration, the environment, homosexual marriage, taxes, deficits, school vouchers, gun control, health care, social security, education, media bias, and President Bush s real record of achievements.
What makes Conservative Comebacks to Liberal Lies so important is that it gives conservatives, right-leaning independents, and even disaffected Democrats the truth they need to counter common liberal claims. Issue by issue, the book offers clear and concise conservative responses and comebacks. Here is a brilliant, A-to-Z reference book that gives readers clear-cut answers on today s most pressing political and social issues.
Conservative Comeback to Liberal Lies should be in the hands of every red-blooded conservative in America!